featured video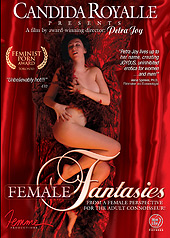 Female Fantasies
Internationally celebrated filmmaker Candida Royalle® continues to support the work of up-and-coming female directors with the release of 'Female Fantasies', the second Petra Joy feature to be distributed in the United States and Canada by Royalle's Femme Productions®.
Winning awards from the Barcelona International Erotic Film Festival and the Toronto Feminist Porn Awards, Petra Joy continues her exploration of women's rich erotic fantasy life with 'Female Fantasies', a visually stunning tableau of sensually shot scenes. "My films are based on erotic fantasies that women from all over the world have shared with me", explains Petra. "I believe in a return to sensuality, and portray sex that is enriched by intimacy, creativity and humor."
the femme catalog
Early Classics
Femme
The very first ground-breaking video that put Femme Productions on the map and showed the world that women like adult movies too, they just like it done their way…
Urban Heat
It's a hot sultry weekend in the big city, where our roving cameras voyeuristically spy on lovers heating up while trying to stay cool: two dancers carry their passion beyond the dance, an elevator sets the stage for seduction between an older woman and a younger man…
Christine's Secret
A charming country inn provides the lush setting surrounding the mystery of Christine's Secret. What is the meaning of the repeated visits of our city girl? While the other guests are too busy making lusty love to care, we are swept up into the mystery and mounting tension that builds to an exhilarating climax…
Three Daughters
Three Daughters is a lovely coming of age story about the Claytons and their three beautiful daughters. While Heather experiences her first stirrings of passion and desire, blossoming before our eyes, her parents re-discover the passion between themselves…
Revelations
What does Ariel, our heroine, do with her sexual awakening in a world where sex is forbidden unless it's for procreation? In Femme's long awaited 35 mm feature, Candida Royalle explores what life might be like in a world without love, passion and romance…
Guest Directors
Star Director Series
A Taste of Ambrosia
The Pickup, written and directed by Veronica Hart takes us on a sizzling journey between two strangers. Nine Lives Hath My Love, written and directed by Candida Royalle, is about one woman's solution to having to choose between her man and her cats. Starring Alexis Firestone, Rugby Rhodes, Jeanna Fine and Randy Paul.
Rites of Passion
Director Annie Sprinkle takes us on an auto-biographical tongue-in-cheek journey, featuring Jeanna Fine as a jaded woman who finds fulfillment when hunky guru (David Israel Sandler) shows her the joys of Tantric sex; while Nina Hartley exposes the lusty longings of a "virtuous" man in "Shady Madonna", directed by Veronica Vera.
Sensual Escape
Media Superstar Gloria Leonard takes us on a touchingly funny walk through the minds of two people who have been dating and are about the take the leap into bed. Beautiful surreal imagery highlights Candida Royalle's mini-drama about a woman's recurring dream that leads her to discover her long-repressed passion. Starring: Nina Hartley, Richard Pacheco, Siobhan Hunter and Steve Lockwood.
Petra Joy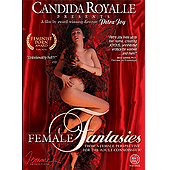 Female Fantasies
From being pleasured by several skilled lovers at once to getting your just desserts on the kitchen counter, secretly spying on some tasty eye-candy, a hilarious parody of a nasty car-wash gone triple-X and more, "Female Fantasies" will transport you to the inner workings of the erotic female mind.
Unlike traditional porn, explains Joy, "there is no list of positions to tick off, so the sensuality can develop slowly based on the enjoyment and passion of the performers." Shot with non-professional real-life lovers, 'Female Fantasies' captures authentic chemistry and desire.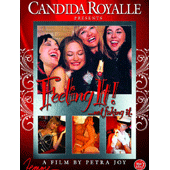 Feeling It!
"Feeling it!", the first in Candida Royalle's new series presenting the work of other female directors, features six sensually shot Vignettes edited to music, directed by award-winning filmmaker Petra Joy. In this eclectic collection of female fantasies, Petra's motto Feeling it, not faking it", has being embraced passionately by the authentic amateur performers. The result is a portrait of sexuality that conveys a sense of joyfulness and genuine desire.
A Touch of Humor
One Size Fits All
Our tale begins in a vintage clothing shop where a strangely seductive dress shows up for sale and leads us on a journey of sizzling sexual intrigue…
Bridal Shower
Have you ever wondered what women really talk about in private? Take a peek into the sexual, lives, secrets and concerns of five women as they share in graphic detail the turn-ons and techniques that get them through the night…
Stud Hunters
Erotic film director Carla Divine and her star, Giselle Lorngette head east to New York City to hunt for the perfect new stud for their next movie…
Under the Covers
When Lisa Ann starts filming a feature on women in the sex industry, she gets more than she bargained for. With a secret "size-queen," super-hot guys, toy-loving clerks, and an exotic masquerade that takes a walk on the wild side, this tongue-in cheek look at the adult world and popular culture will leave you laughing…
Drama, Mystery and A Touch of the Voyeur
My Surrender
April Hunter is surrounded by the tender passions of the couples who come to her to be filmed as they act out their private fantasies. But, because she is fearful of the pain and disappointment love can bring, her own life is devoid of any real intimacy…
The Gift
When Liz returns to her grandmother's home, little does she know that she will leave with the most precious gift one could receive…
Eyes of Desire
Lisa (played by Missy) retreats to her friend's hillside home to re-think her relationship and career and experiences a sensual awakening when she discovers her friend's high power telescope…
Eyes of Desire 2
In part two of Eyes of Desire, Lisa's world becomes consumed by an unknown stranger watching her from a nearby estate. A dark, sensuous man, Daniel Parish takes her to heights of sexual passion she's never before experienced…
Femme Chocolat
Caribbean Heat
Enter the sultry tropics of the Caribbean where lovers become lost in the erotic splendor of an untamed world. Let your mind wander to a place where soft breezes caress your skin like a gentle lover…
Afrodite Superstar
Catapulted in to the world of made mega-stars, AfroDite quickly becomes a top selling rapper and nothing can keep her down – not wardrobe malfunctions, not lip synching fiascos, nothing! Well, almost nothing. Finding herself a little socially challenged in the love department, her secret crush CEO, the mogul's mogul of hip hop, only seems to see dollar signs on her forehead.