Candida Royalle's AfroDite Superstar Featured in Amsterdam's Holy Fuck Film Festival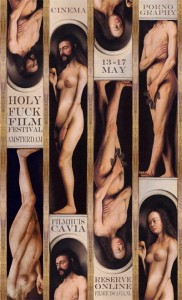 Starting on the Day of Ascension, Filmhuis Cavia hosted their infamous sex film festival, focusing on the cinematic qualities of sex and desire for LGBT and straight audiences. Ranging from soft-core to hardcore, the four day festival included seductive films and videos, underground fetish films and unseen documentaries. An unashamed approach to once again open the door for sex in cinema, following in the footsteps of Amsterdam's Wet Dream (1970/1971) and Rated X (2007/2009) porn film festivals.
Candida was proud to have one of her films featured in this progressive and controversial film festival. Other directors whose work was featured were Petra Joy, Annie Sprinkle, Radley Metzger, Courtney Trouble, Shine Louise Houston and Buck Angel among others.
For more information about this annual event: filmhuiscavia.nl